Lion & Safari Park - Adventurous
Posted on Wed January 30, 2019.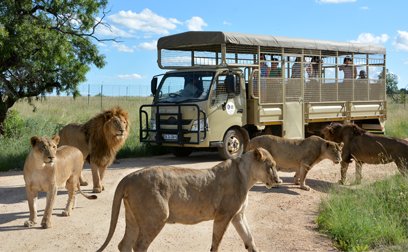 Wilderness reserve with many animals viewable on safari tours, plus concessions & a gift shop.
Address: R512 Pelindaba Rd, Hartbeespoort, Broederstroom, 0240
Hours:
Open ⋅ Closes 6PM
Phone: 087 150 0100
Six Valk Avenue Guest House - Fourways Accommodation
Who We Are
The Lion Park, an established tourist destination, well loved by locals and foreigners alike, became a popular experience for all over the last 50 years. Having moved to the Cradle of Humankind in July 2016, this new must-see world class facility, called Lion and Safari Park, offers guests a memorable experience.
The new park offers a wealth of exciting activities such as animal interactions, guided game drives and self-drives.  You are guaranteed to get super-close to some of Africa's favourite animals whether you go on an informative guided tour or self-drive.  Guests also have the opportunity to engage in the experience of hand feeding a selection of animals including giraffes, ostriches and various other antelope species that roam freely on the 600-hectare property and frequently visit the wetlands in front of 'the Wetlands' Bar and Restaurant.
Guided Tours
The Lion & Safari Park is home to a vast selection of indigenous species such as Lion (Brown and White), Cheetah, Hyena (Brown, Spotted and Striped), Leopard (including black leopard), Wild Dogs, Sable antelope, Kudu, Nyala to mention only a few.
Guests can enjoy a variety of different guided tours. The trained guides turn every tour into an informative and educational trip as they share interesting facts. Tour options include; Lion & Wild Dog Tour, Mini Safari, Night tours (with predator feeding), Private Exclusive tours, Alex Tour, Cheetah and Lion Walks. The 3-hour Safari is the flagship tour which includes snacks and drinks on the bank of the Crocodile river. The famous animal trainer Alex Larenty promises to provide a fun-filled experience as he interacts with fully grown lions on the 'Alex tour'.
Self-drives
Guests also have the option to drive their own vehicles through the lion and wild dog enclosures and the new extended route to the hyena enclosures will provide the opportunity to see many different antelope species such as Giraffe, Kudu, Gemsbuck, Warthog, Sable, Nyala and many more.
The park is a paradise for children.
The beautifully designed playground next to the restaurants will keep the young ones entertained. This makes the perfect venue for kiddie's birthday parties. A day visit to the park also provides the perfect opportunity for schoolchildren to learn about the animals and various research programmes that the Lion and Safari Park is involved in.
Restaurants
The Bull 'n Buck grill provides a premier dining experience with a top wine list and a delicious menu, venison of course being the Grill's speciality dish complimenting that true African sensation. Alternatively, the Wetlands Restaurant is a great family choice to enjoy a quick meal whilst enjoying the view of antelope grazing meters away. Take a short walk from the restaurants to visit the meerkat, porcupine and mongoose enclosures.
Apart from being a world class tourist destination, the Lion and Safari Park turns any conference, function or event into something unique.
Retail
The park's photographic centre will capture your memories with a great range of printing options such as photobooks, mugs, keyrings, puzzles and more. The '5 dome shopping experience' offers a vast selection of unique hand-crafted curios, jewellery and clothing, which make great gifts for those back home.
Open every day of the year
Entrance to the restaurants, curio shops and kiddie's playground is free, and guests only pay for activities. The cost of a visit to the Lion and Safari Park is well priced for both local and international guests.
The park is open 365 days a year, and is certainly an experience not to be missed. 
Six Valk Avenue Guest House - Fourways Accommodation