Lanseria Airport - Near Fourways Accommodation
Posted on Wed February 6, 2019.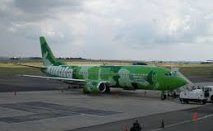 Lanseria International Airport is a privately owned international airport that is situated north of Randburg and Sandton to the north west of Johannesburg, South Africa. The airport can handle aircraft up to the size of the Boeing 757-300.
Since the early beginnings in 1974, this internationally recognised airport has established itself as a key player in the aviation sector. The history section will give you an insight into how it all began, and their current news is kept up to date regularly with the latest happenings. As South Africa's only privately owned international airport, they are perfectly positioned to fly you on our top airlines or charter companies.
With a keen involvement in uplifting their surrounding community and other well deserving projects, their Corporate Social Investment section will outline all their goodwill investments, past and present.
If you'd like to become part of the Lanseria family, keep your eye on the Careers page.
If it's our customers you'd like to reach, consider using Lanseria International Airport for your media and marketing requirements. The Advertising page has all the information about what opportunities are available.
Quick facts about Lanseria International Airport
It was the vision of aviation enthusiasts that stirred up the creation of building another airport in Johannesburg in the early 70's.
Today Lanseria is still the only other Internationally accredited airport in Gauteng.
In 1974 with a mere R2,7 million, construction began and today the airport has undergone several expansion projects to keep up with its impressive growth.
Commercial flights between Johannesburg and Cape Town, Durban and George operate daily on kulula.com, Mango and FlySafair.
Airport facilities include an upgraded passenger terminal building, restaurants, duty free shopping, lounge facilities, ample parking, easy flow pick up and drop off area and with improved road access getting to Lanseria Airport is hassle (and toll) free.
A new runway has made the airport accessible to larger aircraft.  (This project cost R150 million.)
Long and short term parking facilities have been extended to facilitate growth and plans are underway to begin building a multi-level parkade in the near future.
The onsite Emergency Services Department at Lanseria is highly rated and among the best in Southern Africa.  They have won the South African National Fire Fighters competition for 3 consecutive years, and offer specialised aviation emergency services.
The excellent service provided 24/7, 365 days a year has ensured that Lanseria remains the favourite destination of most private internationally jet travellers.
Six Valk Avenue Guest House - Fourways Accommodation