Here's To You – Simon And Garfunkel Songbook
Posted on Fri July 12, 2019.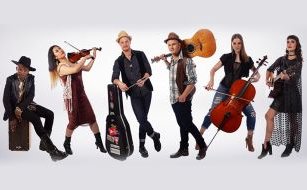 Simon & Garfunkel gets a classy makeover with 8-piece cast who all play musical instruments.
Fall in love with Simon & Garfunkel all over again in this dynamic, and uplifting musical journey through more than 20 classic hits!
Simon and Garfunkel's great catalogue provides a carousel of memories that will be on display for a limited season and will be the hottest musical ticket in town. With a sensational cast of multi-talented performers who bring this timeless music alive in a theatrical setting, HERE`S TO YOU is a fresh take on Simon & Garfunkel`s classic songs that speak to all ages.
This show is performed by a stellar all South African cast of 8 talented singers who all play musical instruments. Under the Musical Directorhip of Wessel Odendaal, the cast is led by Josh Ansley (#thevoiceSA2017 Runner-up) on guitar with Ashleigh Butcher on Banjo/Guitar/Ukelele, Daniel Geddes on Keyboards, Hanna So on Piano/Violin/Cello, Justin Swartz on Guitar/Vocal Percussion, Phindile Dube on Percussion and Sanli Jooste on Cello.
#Monte Casino #FourwayAccommodation #GuestHouse #SelfCateringFourways